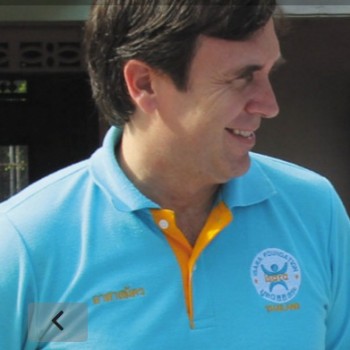 It's become second nature for almost anyone who rides a motorcycle in the U.S. to don a helmet before hitting the road. It's the law, in most states. But by now everyone knows it's knuckleheaded not to protect your skull while floating unprotected through the air at 65 mph. This isn't the case in other countries. Case in point, Thailand, where four-fifths of the population — around 19 million — rides a motorbike or scooter. It's the preferred ride for the average citizen, the equivalent of a car in the U.S.
Kirk Gillock, a young American expatriate, is trying to save lives by protecting the heads of anyone riding on two wheels. Slowly but surely, he's making some progress.
In 2003, Gillock decided to give up his comfortable life in the U.S. and volunteer as a teacher in Nong Khai. He fell in love with the country and the kids he was teaching, who were incredibly well-behaved and attentive. So he quit his job back home and sold all his possessions. He moved to Thailand where he thought he could make more of a contribution as a teacher. Quickly, he noticed how many motorbikes packed the streets, each one topped with an exposed head. As time passed, he heard repeatedly about a student or member of a student's family who was injured or killed while riding on two wheels. With a little research, he discovered that Thailand's roads are considered some of the most dangerous in the world. It wasn't hard to connect the dots between those statistics and those exposed heads.
Gillock was already on an exceptional path. With his girlfriend, he'd started the Isara Foundation as a funding source for a free Learning Center. At the center they were teaching English as a second language, to give Thai youth a chance to connect with the world outside Thailand's borders. (English remains the default language for much of the content on the Internet.) The foundation also promoted environmental protection,and since 2005, it had been advocating the use of helmets for motorcycle riders.
Last year, the 41-year-old former Texan took it up a notch. He drove his pickup truck on a month-long tour of the country to broadcast his message about motorcycle safety. When I say broadcast, I mean it literally: he decked the truck with banners proclaiming bike safety and used mounted loudspeakers to tell everyone within earshot to put on a helmet. He had done a similar tour eight years ago on his own motorcycle.
Over the years, Gillock told the Bangkok Post, he has seen a distinct rise in helmet usage. When he went on his first tour through the country, maybe 10 percent of the riders he spotted were helmeted, but during his recent truck trek, he estimated nearly half of them had helmets. That's a huge improvement. He can give himself at least some of the credit for both raising consciousness about the issue and actually supplying helmets. On his last tour, whenever he saw riders without a helmet, he would pull over and hand them a free helmet, telling them it could save their lives.
Since 2005, Gillock has donated more than 4,500 helmets to Thai children and adults. The Bangkok Post reported that, even with the increased use of helmets, one rider died every hour on Thailand's roads. Without Gillock's admirable devotion to his cause, that number would undoubtedly be much higher.
What's so inspiring about Gillock's entire life is how he has cut himself loose from all the compulsions of contemporary life that hold people back from doing good in the world. He made a clean break with the way we live in America and the assumptions that drive people to accept the status quo, and he found a place where he can completely devote himself to others. It's a remarkable testimony to the potential people have to simply make goodness itself the central focus of daily life. It's no wonder he was listed in Good Magazine listed him as a "global citizen" in its Good 100 list of exceptional change agents.
You don't have to move to Thailand in order to become the same kind of change agent. Do you know someone like Gillock in your own community? Do you have a story of someone who has made goodness a way of life as thoroughly as Gillock?
---