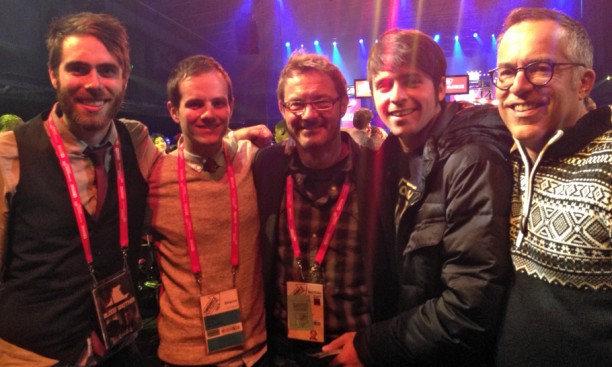 At the Sundance this year, my wife and I were fascinated by many of the new films on view, but one of the ones that impressed me, and many others, the most was Blood Brother. It was filmed by Steve Hoover, and it's about one of his best friends, Rocky Braat. Rocky had a rough childhood: his mother was a drug addict, she dated abusive men and his father disappeared when Rocky was seven. In Pittsburg, attending art school, Hoover met Rocky and they became roommates.
Rocky dreamed of becoming a graphic designer. One summer, he decided to visit India and, on his visit, he met a group of orphans who had HIV/AIDS. Almost without second thoughts, he chose to leave all of his career plans behind to help these kids. Hoover stayed in touch with Rocky through the entire process.
"I've known Rocky Braat a long time. He's my best friend. We went to design school
together, launched our careers together. There's nothing about him that is especially out of the ordinary," he says. "So when he told me he was moving to India, it didn't make sense to me, at least not right away. This was the same guy who, during hot summers at the house we shared in Pittsburgh, would lie immobilized in his underwear in front of our only fan—he couldn't stand heat.
"But I did know that Rocky never really felt at home here: not when he lived with his mother, not when he moved in with his dad, not in design school. While working for a national magazine, he looked around and saw that most of the people he knew, including myself, seemed to be content to rise in their respective fields, getting ahead— but he wasn't.
"So he quit his job and went traveling. On a whim, with time to kill in Chennai, India, he went to visit the AIDS orphanage."
Hoover says Rocky expected to see the kids, shed some tears for them, and maybe with them, and then move on with his life. That's how it went down, except for the last item in that list. He spent a month living with them. He got close to many of them. Closer than he expedited. When he decided to leave, the children thronged around him, sulking, begging him to stay, crying and pulling at his hand. Still, he got onto the train
On the long train ride north, he couldn't stop thinking about them. So he went back. He ended up spending his entire summer at the orphanage. When he left again, he promised the kids he'd come back a year later, and he did. In short order, he realized he needed the kids as much as they needed him. He'd found his home. Years have gone by, and he's still there. He eats almost nothing but rice. He has rat problems. He has visa problems. But he's there for the kids. He counts out their pills. He's their amateur dentist, clown, teacher, friend and even—more or less—their father.
Hoover made the film simply to raise money for the orphanage. It was filmed using donations, so it has no debt. All money the movie makes will go straight to the Indian orphanage and its children.
As Hoover puts it: "We're set up to donate all of the profits. When this all blows over, Rocky will still be in India and we want this to somehow support him for a long time. We have no personal interest for financial gain in this project. We just want Rocky to continue to do his much needed work and hopefully inspire others to join in. Currently, we have partnered with several very influential non-profits in order to help with some of our goals – the RED HOT ORGANIZATION and ACT V: The End of AIDS."
If you're interested in donating to the movie, the easiest way is by donating with a texting. Do you know anyone who has radically changed his or her life, the way Hoover's friend did, for the sake of others?
---